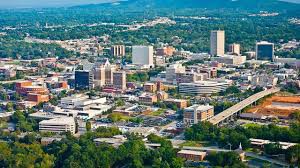 Greenville Country is located in what we call, "The Upstate" of South Carolina. It's nestled between the Blue Ridge mountains and several of the most beautiful lakes in the Deep South. Greenville is one of the largest cities in the state and it's located halfway between Atlanta, GA and Charlotte, NC.
The Upstate is known for it's breath taking views of the mountains, lakes, trout streams and the revitalized downtown area. The city is host to a multitude of cultural events, parks and the Greenville Drive Baseball team. With so many choices for entertainment, recreation and inspiration the Upstate will never be a disappointment. You could enjoy a 5 star dinner at one of the hundreds of restaurants in the Upstate or simply take a stroll to the Falls Park Suspension Bridge in the downtown area. Maybe you are a bit more adventurous? You could take a Segway tour around Greenville, hike up Paris Mountain, swim in Lake Hartwell, ice skate in the outdoor area, visit the Roper Mountain Science Center or enjoy an off Broadway play at the Peace Center. With the Greenville zoo, Frankie's Fun park and Hollywood Animal Park, your children will never be bored! It's time for you to check out Greenville for yourself.
Everybody is coming to the same conclusion…Greenville is the place to be. It has been ranked as one of the "Top 10 Fastest Growing Cities in the US", named as the "3rd Strongest Job Markets", "2015's Hottest New Vacation Destination", "AARP's Best place to Retire" and Southern Living placed Greenville in its Top 10 "Tastiest Towns in the South."
Come on and fall in love with Greenville and the entire Upstate community!