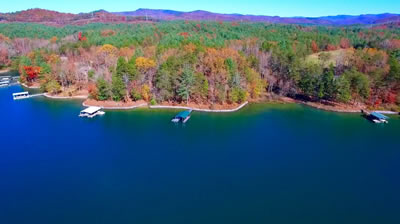 Lake Keowee is known as one of the most prestigious lakes around.  Keowee features some spectacular waterfalls, views of the Blue Ridge Mountains, and the most crystal-clear waters around. It is located in the northwest corner of South Carolina and is only 45 miles from Greenville, SC and 125 miles from Atlanta, GA.  The full pond elevation is 800 feet and the depth of the lake is 297 ft.It is nestled in the foothills of the Blue Ridge Mountains, which has over 400,000 acres of undisturbed forests.
On Lake Keowee you will find some of the largest homes around.As a matter-of-fact, Lake Keowee was listed as one of the DzTop 10 Places to Live and Boatdz in the December 2010 issue of Boating Magazine.
The lake consists of 17,660 acres of fresh water with 300 miles of shoreline.  It is the first lake that was developed as part of Duke Energy's Keowee-Toxaway Complex.   Fish include: Blue Gill, Rainbow Trout, Brown Trout, Largemouth Bass, Smallmouth Bass, Yellow Perch and Spotted Bass.
Rumor has it that there are several famous people who own homes on Lake Keowee, such as Jack Niclaus, Oprah Winfrey, Kevin Costner and Dan Marino.  Of course, we cannot verify that information, but it is highly probable that they do have a second, or maybe it's their third or fourth home, on Lake Keowee.
Backwater Landing
Barefoot Cove
Bay Ridge
Beacon Shores
Beckland
Berwick
Bradbury Place
Camp Jocassee Pointe
Cane Creek Cove
Cantrell Point
Captains Cove
Cardinal Point
Carolina Cove
Cedar Creek
Clear Water
Cliffs at Keowee
Cliffs at Keowee Falls North
Cliffs at Keowee Falls South
Cliffs at Keowee Springs
Cliffs at Keowee Vinyards
Clovis Point
Cottages at Bells Grove
Cove Inlet
Craggmore
Crestview Lake
Crystall Falls
Dogwood Village
East Cove
East Shores III
Eleven Oaks
Elrod Sound
Emerald Pointe
Estates at Riverstone
Fair Haven Estates
Fairview Cove
Fairview Shores
Four Points North
George Martin Acres
Hampton Shores
Harbor Oaks
Harbor View of Keowee
Harbour Pointe
Hickory Cove Estates
Hidden Falls
Hidden Harbor
High Hammock
Hunnicutt Cove
Indian Oaks
Isaqueen Pointe
Jocassee Ridge
Keowee Bay
Keowee Cove
Keowee Harbours
Keowee Haven
Keowee Inlet
Keowee Key
Keowee Landing
Keowee Mountain
Keowee Peninsula
Keowee Plantation
Keowee Pointe
Keowee Shores
Keowee Subdivision
Knots Landing
Knox Point
Kokomo
Lake Shore
Lakeside Estates
Lakeside Pointe
Lakewood Estates
Laurel Pointe
Laurel Ridge
Loran Pointe
Low Country Cove
Marina Pointe
Mariner Pointe
McDonald Pointe
Moonlight Bay on Keowee
Mountain View Bay
Mountain View Pointe
Normandy Shores
North Harbour
Northlake Estates
Oak Stone Shores
Oake Point
Outerbanks of Keowee
Palmetto Pointe
Petty Cove
Pine Ridge Pointe
Pinnacle Point
Pointe Harbor
Port Santorini
Riverstone
Royal Reserve
Safety Harbor
Saluda Shoals Eastates
Saxony Forest
Saxony Point
Serenity Bay
Shallowford
Shangri-La on Lake Keowee
Shelter Cove
Six Mile Ridge
South Cove – South Cove Landing
South Oak Pointe
South Port Village
Southwind Bay
Spanish Cove
Stoneledge at Lake Keowee
Sunset Bay
Sunset Shores
The Battery on Keowee
The Cove
The Highland on Lake Keowee
The Moorings
The Oaks at Lake Keowee
The Pennisula
The Pointe at Barefoot Cove
The Reserve at Lake Keowee
The Shores of Keowee
The Summit
The Woods at Lake Keowee
Turtlehead
Venture Bay
Walker Point
Waterford
Waterford Farms
Waterford Pointe
Waterford Ridge
Waters Edge
Waterside Crossing
Waterstone
Wellington Pointe
Westwood Bay
White Harbour
White Oak Cliffs
White Oak Point
Wilderness Cove
Wildwood at Lake Keowee
Windswept
Wynward Pointe