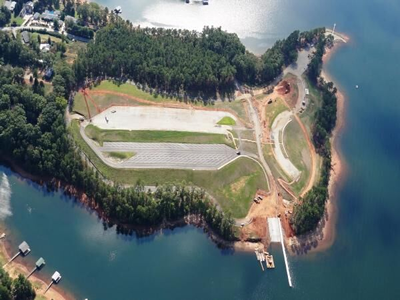 Hartwell Lake is one of the largest lakes in the southeast and one of the most popular public recreation lakes.  Hartwell was built by the US Corps of Engineers; between 1955 and 1963.  It borders Georgia and South Carolina on the Savannah, Tugaloo, and Seneca Rivers and comprises nearly 56,000 acres of water with 962 miles of shoreline.  The Hartwell "Project" was originally authorized for three purposes: hydropower, flood control, and navigation. The Lake Hartwell Dam in Hartwell, Georgia, began in 1955 and was completed in 1959. The Lake didn't reach the full pool elevation of 660 feet until March 12, 1962. The average depth is 45 ft., but can get as deep as 185 ft.  Since it opened to the public, millions have used the many parks, marinas, and campgrounds. Hartwell has a variety of fish, such as, Stripped Bass, Bream, Smallmouth Bass, Walleye and Largemouth Bass. Hartwell is also a birdwatchers paradise with over 250 species of birds.  Bring your fishing pole, bathing suit, binoculars, hiking shoes, or whatever it is that you might need in order to do what you love most, but most of all. . .  bring your sunscreen and enjoy some relaxing time on the lake!
In February 2015, the newly completed Green Pond Landing in Anderson, SC served as the blastoff site for the "2015 CEICO Bassmaster Classic".  This is a three-lane concrete ramp that measures more than 280 feet long. It has 166 parking spaces for trucks and boat trailers, as well as, a 250-foot floating boat dock and 113 single spaces for spectators and co-anglers.  It is located just off Hwy. 24.
There are several State parks on Hartwell. They include Lake Hartwell State Park, Tugaloo State Park, Hart State Park, and Sadler's Creek State Park.  They offer an array of things to do and see, such as picnic areas, campsites, swimming spots, hiking areas, etc.  You need to just check them out!
Lake Hartwell Communities
Aberdeen
Alexander Acres
Amber Heights
Anchor Point
Anchor Point (Condos)
Baldwin Point
Bayshore
Beaver Run Trail
Beaverdam Lake
Bellview Estates
Black Jack Cove
Blumefield Estates
Broyles Point
Buckhead
Buckwood
Caballin Spring
Cahaly Cove
Calhoun Forest
Calhoun Point
Camp Creek Heights
Campden Sound
Cann Subdivision
Car Mac Shores
Caravelle Heights
Cateechee Shores
Centerville Shores
Chasewater
Chateau Woods
Cherokee Bay
Cherokee Point
Cherokee Woods-Clemson
Chicasaw Point
Churchfield Cove
Claude Smith
Clearwater Shores
Clemson Courts
Clemson Courtyard
Clemson Sports Club
Clemson Towers
Cold Springs
Coneross Point
Country Estates
Cove Inlet
Creekside Subdivision
Cross Pointe
Deep River
Deer Cove
Deer Run
Delta Estates
Denver Cove
Diamond Pointe
Double Springs Estates
Dove Cove
Dunaway Park
Eastlake
Edgewater
Edgewater Estates
Edgewater Hills
Emerald Pointe
Fairplay Heights
Fairplay Shores
Falcons Landing
Falling Springs
Fennell Pointe
Forest Acres
Forest Park
Foxwood Hills
Foxwood/Edisto
Friendship Pointe
Friendship Shores
Gainswood Cove
Gambrell Point
Glenn Ferry Park
Glenn Shores
Gordon Subdivision
Grand Overlook
Great Oaks Estates
Green Hill Plantation
Greenbriar
Greystone Creek
Hammock Bay
Hanna Heights
Harbor Gate (Condos)
Harbor Hills
Harbour West
Harpers Ridge
Harrison Harbor
Hartwell Ridge
Hembree Station
Heritage Shores
Hiawassee
Hidden Lake
Hill & Dale
Holiday Shores
Homestead Estates
Horse Shoe Bay
Horseshoe Bend
Houston Street
Hunter's Cove
Hunter's Trail
Huntington Heights
Huntington Hill
Inlet Point Cove
Isle-O-Pines
Jackson Pointe
Keowee Club
Knots Landing
Knoxwood Estate
Lake Grove
Lakecrest
Lakefront
Lakeridge
Lakeshore Village
Lakeside Court
Lakeview Heights
Lakewood
Lazy Acres
Leeward Landing
Leisure Village
Liberty Pointe
Loblolly Pines
MadisonShores
Marett Subdivision
Martin Creek
Martin Creek Heights
Martindale
McClain Point
Merry Hill Estates
Moonlight Bay
Mystic Vineyards
New Salem
Nord-Lac
North Lake (Condos)
North Shore
Northeast Shores
Northridge
Oak Terrace
Oakledge
Oakwood Estate
Overlook (Condos)
Palmetto Place
Paradise Point
Parkview East
Parkview South
Parkview West
Pelican Cove
Plantation Point
Pointe Wildwood
Ponderosa Point
Port Bass
Port Laurel
Pritchard Creek
Providence Point
Quail Creek
Regatta At Lake Hartwell
Richardson Pointe
Richland Point
River Point
Riverford
Riverlake
Riviera Estate
Rivoli Lakeside Estates
Rock Creek Acres
Royal Oak Shores
Sadlers Forest
Sadlers Creek
Sandy Point
Sandy Shores
Sapphire Point
Savannah Lake
Seminole Point
Seneca Landing
Shady Cove
Shenandoah
Sherwood Forest
Shirley Circle
Shoals
Shorecrest
Snug Harbor
Spring Brook
Spring Water
Stillwater
Stillwater Bay
Stone Creek
Stone Creek Cove
Stone River
Stonehaven Subdivision
Stonewall Woods
Strawberry
Strawberry Hill
Strawberry Ridge
Sugar Hill
Sunnydale Acres
Sunrise Harbor
Sunset Hills
Sunset Shores
Surfside Height
Tabor Estates
Tahoe
Tammerick Shores
Teakwood Plantation
The Arbors
The Gates
The Springs
Timberlake
Tokeena Shores
Top Sail Bay
Town Creek Acres
Townville Lake Plantation
Tugaloo Heights
Twin Lakes
Valencia Bay
Waterford Pointe
Watermarke (Condos)
Water's Edge
Waverly Point
Welborn Fields
Wellseley Hills
West Lake
Westwind Harbor
Westwind Way
Whitfield Point
Wilkesfield
Windy Point